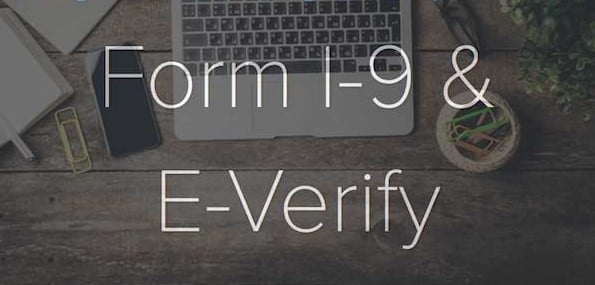 What is Form I-9?
Form I-9 is the document used to verify identity and employment authorization for individuals seeking employment in the United States. All U.S. employers must complete Form I-9 for each new hire, which includes obtaining acceptable documents confirming identity.
What is E-Verify?
E-Verify is an online system that is utilized to confirm employment eligibility by verifying Form I-9 submissions with records in the U.S. Department of Homeland Security and the Social Security Administration. E-Verify provides results within seconds and currently has over 870,000 employers enrolled. Employers may opt to use E-Verify as a supplement to Form I-9 either as required by law or voluntarily.
There are three steps to complete the verification process:
Create a case in E-Verify
E-Verify will display initial case results in a matter of seconds. More action may or may not be required.
Close the E-Verify Case once a final case result is displayed.
Employment Eligibility Verification: E-Verify and Form I-9
After an offer of employment has been made and accepted, employers are responsible to complete Form I-9 with their new hire.
Verifying employment eligibility is performed through completion of Form I-9. First, the employee completes Section 1 of Form I-9 (on the first day of employment). This is followed by you completing Section 2 when the employee provides documents from List A, or B and C (by day 3 of employment). You can either stop once you've completed both sections of Form I-9, or you can complete the form and run the employee through E-Verify (unless you are mandated to use E-Verify).
What is Form I-9 Comply™
Form I-9 Comply™ is Choice Screening's solution for electronic Form I-9 management that fully integrates with E-Verify. With Form I-9 Comply™ you will be taken through all the steps required to complete an employment eligibility verification including your new hire's Form I-9 and managing the E-Verify case. Completed Form I-9s are housed in our secure cloud storage allowing you to be completely paperless!
Why Use Form I-9 Comply™?
Errors, deadlines, compliance, inconsistencies, and other offences are often overlooked on Form I-9 leaving organizations vulnerable during an ICE audit. The #1 reason for fines during an audit is Form I-9 omissions and errors. Form I-9 Comply™ virtually eliminates omissions and errors and is fully compliant and user-friendly.
Verify employment eligibility with confidence and efficiency through this easy-to-use online platform. Receive Choice Screening training and support, secure cloud storage, 185-point error checking algorithm, 20-tier validation audit, remote hire function, and nationwide notary network access. It's simple to use, easy to train, and hard to make a mistake!
Not only is our application totally compliant but it was created by immigration attorneys. No employer has been fined for errors and omissions since using our application!
Don't risk it – start using Form I-9 Comply™ today.
Form I-9 Internal Self Audit Guide
One of the most effective ways to minimize risk is by performing regular audits to your existing Forms. Download our Self Audit Guide to audit your forms and rectify missing forms and errors.
This blog is not all-inclusive. We cannot act as your attorney, so make sure you're consulting with a qualified employment attorney.
Still have questions? Contact Us