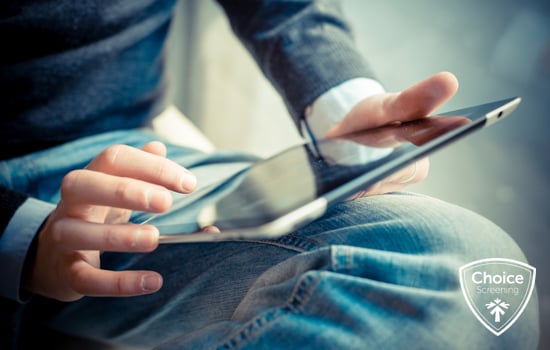 As the world responds to COVID-19, organizations are pivoting their practices in order to protect their businesses and to strengthen their financials. We recognize you need a cost-effective hiring solution to maintain a successful workforce. The Choice Screening Applicant Self Pay can help alleviate financial strain associated with hiring.
Choice Screening Applicant Self-Pay
One way organizations can help the bottom line is to ask their applicants to help pay for their own background check. Many industries can use this new powerful tool to help create new ways to continue to grow without incurring the normal hiring costs.
Choice Screening's Applicant Self-Pay is an effective solution to access compliant and comprehensive background screening without the expense. This service operates similar to a normal employer-paid background screen by starting with a compliant consent form, except the volunteer pays for the background screen through a secure payment portal. The background report is available to you as the prospective employer on the Choice Screening App.
Why Utilize Applicant Self Pay?
Help control administrative expense all while maintaining a rigorous background screening policy.

It's easy to use! Your applicant can fill out the online consent form, order, and pay for their background check all themselves.
The Choice Screening App is secure, mobile optimized, and user-friendly.
Fast account setup - implement applicant self pay within the same day!
Customize your background screening packages to meet or exceed your budgetary and hiring needs.
Applicant Self-Pay for Rental Applicants
In this highly competitive housing and rental market, you need cost effective tenant screening that is reliable, fast, compliant, and meets your requirements. Many Property Managers choose to include the background check cost into the overall rental application cost. Choice Screening Applicant Self Pay is a good fit for property managers and landlords wishing to ease the administrative burden.
Applicant Self-Pay for Volunteers (Sports, Churches, Non-Profits, etc)
Organizations and non-profits must be aware of their employee's and volunteer's background to protect those they serve. Volunteers are often the lifeblood of the organization and effectively help you serve your communities. However, volunteers can pose a threat to your clients and the organization just as much as a traditional employee. Through Choice Applicant Self Pay, you can control the cost of background checks and ensure you are making informed decisions about your volunteers.
Compliance
Keep in mind you must follow compliance guidelines when hiring volunteers or employees such as: perform the same type of background check for each applicant applying for that position, don't forget to have the volunteer sign a consent form or use our streamlined online consent form, and if you disqualify the applicant for any reason, you must comply with Adverse Action.
Get Started!
Consult with one of our advisors to see if the money-saving Applicant Self Pay is something you can implement today.
One final note, not all organizations are allowed to charge prospective employees for background checks. When in doubt, check with your state employment laws and always consult with a qualified employment attorney.