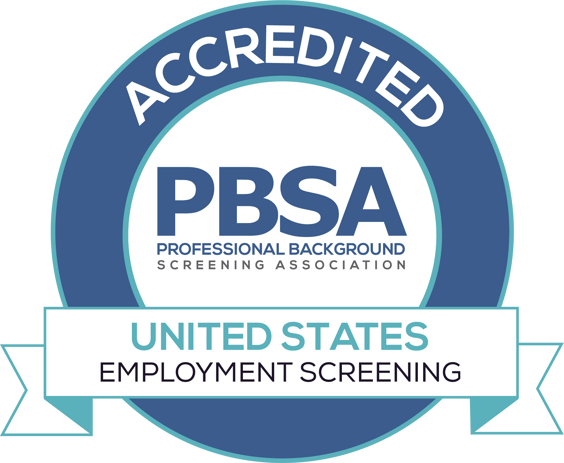 As of 2019 Choice Screening has been formally recognized as BSCC-Accredited by The Professional Background Screening Association (PBSA®) Background Screening Credentialing Council (BSCC).
About PBSA®
Founded in 2003 as a not-for-profit trade association, the National Association of Professional Background Screeners (NAPBS) represents the interests of more than 900 member companies around the world that offer tenant, employment and background screening. PBSA provides relevant programs and training aimed at empowering members to better serve clients and maintain standards of excellence in the background screening industry, and presents a unified voice in the development of national, state and local regulations. For more information, visit www.thepbsa.com.
The BSCC oversees the application process and is the governing accreditation body that validates the background screening organizations seeking accreditation meet or exceed a measurable standard of competence. To become accredited, consumer reporting agencies must pass a rigorous onsite audit, conducted by an independent auditing firm, of its policies and procedures as they relate to six critical areas: consumer protection, legal compliance, client education, product standards, service standards, and general business practices.
Accreditation Standards - Why it Matters!
Because of the accreditation we have received, it proves our ability to deliver professional services at a high standard. A CRA (consumer reporting agency) must meet or exceed standards in the following areas:
Consumer Protection - An information security policy and consumer information policy must be in place and followed. Procedures for securely submitting information electronically must be demonstrated. Back-up and storage of data procedures must meet all legal and regulatory requirements. Access protocols including physical security must be maintained.
Legal Compliance - FCRA compliance pertaining to background check reports must be followed. A designated compliance position must be held within the company. All federal and local regulations must be followed. A client agreement must be obtained prior to providing background checks. Required documents including disclosure and authorizations must be provided to clients and consumers. Adverse action and consumer disputes procedures must be followed. Employees must be qualified agents understanding various jurisdictional court differences and terminology in the industry.
Client Education – Communicate with clientele the importance of legal counsel, background check report education, industry news, PII protection, and original source types (truth in advertising).
Product & Service Standards - Demonstrate clearly defined scope of services, jurisdictions, methodology, findings, and turnaround time. Maintain high standards of procedures for auditing, verifications, documentation, and more.
General Business Practices - Must maintain a knowledge base of changing law and regulation. All employees have a background check on file. Follow all requirements to authenticate vendors, clientele, and consumers. Maintain record retention and destruction policy, employee certification, compliance training, ethics reporting, and more. All employees must follow strict professionalism and proficiency training.
Choice Screening is a long-standing member of PBSA and is BSCC-Accredited since 2019. We have the fastest and most professional service in the business. With phone wait times under 1 minute, and same hour response time for email, at Choice you always talk to a human. Client education is so important to us, we not only give you access to the quickest service, but we assign you a dedicated account advisor you can call or email anytime! Our product standards exceed expectations with an staggering accuracy rate of 99.99%. Our in-house compliance director oversees the changing landscape of the background check industry. We continually make changes to our processes and technology to create built-in compliance solutions directly into our application. We have the best IT team that is monitoring and maintaining PII protection through a multi-faceted approach.
What are you waiting for? Experience the Choice Difference today!
This blog is not all-inclusive and not intended to provide legal advice. We cannot act as your attorney, so make sure you're consulting with a qualified employment attorney.