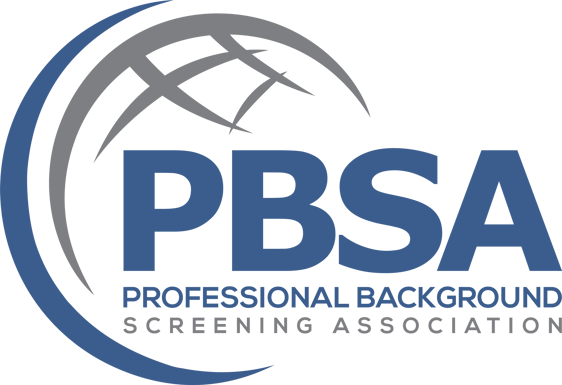 The National Association for Professional Background Screeners (NAPBS) recently announced their branding change to the Professional Background Screening Association (PBSA). This new branding intends to align their name with their vision to be a global organization. Along with a new name came a new logo and website.
PBSA was founded in 2003 and is a one-of-a-kind organization which accredits Consumer Reporting Agencies (CRAs) like Choice Screening. PBSA is well know for setting the background screening industry standards of operating, providing educational resources, and more. PBSA has chapters in the US, Canada, Asia-Pacific, and parts of Europe
Currently there are over 1,000 members of the PBSA organization. There are currently only 117 background screening agencies accredited, Choice Screening being one of them.
The accreditation is through the Background Screening Agency Accreditation Program (BSAAP) and is recognized industry wide as the highest seal of achievement. Prior to being awarded an accreditation, CRAs must go through a rigorous audit of policies and procedures, including: consumer protection, legal compliance, client education, researcher and data product standards, verification service standards, general business practices, and more.
About Choice Screening, Inc.: Choice Screening, Inc. is an industry-leading, accredited background screening provider of pre-employment background checks, Drug, Alcohol, and Medical Screening, Professional Verifications, Driving Records, Credit Reports, Rental History, as well as many post hire services such as Form I-9 Comply™, Workers Compensation, and Choice ReScreen. Choice Screening prides itself on client education and providing an accurate scope of this highly regulated industry. They are not only focused on remaining compliant, but provide the necessary hiring solutions to help their clients achieve their goals.
About Professional Background Screening Association.: The Professional Background Screeners Association was established to promote ethical practices in the background screening industry. They hold their partners to high standards and they must observe FCRA regulatory compliance, meet best practices standards and adhere to various laws as they pertain to our highly regulated industry. PBSA education and news alerts keep CRAs at the forefront of this rapidly evolving industry to ensure professional standards of excellence.
Please note: Choice Screening does not offer legal advice or guidance regarding background screening. Please consult a qualified employment attorney for legal advice. This blog is for informational purposes only.