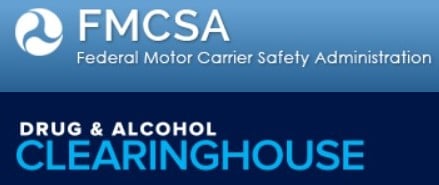 The FMCSA (Federal Motor Carrier Safety Administration) Clearinghouse is a database which contains real time records of CDL and CLP of drug and alcohol test violations, test refusals, return to duty information and follow up testing.
As of 1/6/2020, employers are required to query the clearinghouse for current and prospective employee's drug and alcohol violations prior to allowing employees to operate CMV. Employers are also required to perform annual testing on employees. Please note the database has 3 years before all information will be up to date. Because of this reason, employers are required to continue using current processes in conjunction with querying the clearinghouse for 3 years.
The Office of Drug & Alcohol Policy & Compliance (ODAPC) Website has a decision tree, "Am I Covered" which can help you determine if your prospective and current employees are subject to the DOT drug and alcohol testing regulations.
Please note: if your employees do not require FMCSA Federal Drug Testing, you are permitted to perform drug and alcohol testing if it is part of your company policies.
Queries are covered under FCRA obligations except for disputing information. A driver disputing violations must go through the data queue in the clearinghouse, not the CRA.
CRA (Consumer Reporting Agency) and TPA (Third Party Administrator) are used interchangeably. Choice Screening is a CRA and can be utilized as a TPA to perform your queries. If you would like us to run queries on your behalf, please complete the employer action items.
EMPLOYER ACTION ITEMS
Register
Register your company
If you are a current client of Choice Screening and would like us to run queries on your behalf, then designate Choice Screening as your TPA during registration.
Review Regulations and Resources
Purchase Queries
Queries are $1.25 each for either a full or limited query.
Unlimited queries are $24,500 annually
Employer must pre-purchase queries, then authorize Choice Screening to perform the queries. Please note: Choice Screening cannot purchase queries. Once authorized we will perform the queries on your behalf under your account.
Run Queries
Employees must be queried at least once within a 365-day period based on their hire date or another 12-month period determined by the employer.
Please note: Annual basis query can use limited or full query. Pre-employment query must use Full query only.
Full Query – allows employer/CRA to see full violation record and driver consent occurs within the clearinghouse)
Limited Query – allows employer to determine if there is a record or not. To get violation information you must then run the full query. Limited query requires a consent outside of the clearinghouse.
Report Violations
Employers (or Choice Screening if designated upon registration) must submit within 3 days to the clearinghouse for the following violations:
An alcohol confirmation test result with a 0.04 alcohol concentration or greater
A negative return to duty test result
The drivers' refusal to submit to a DOT test for drug or alcohol use
An actual knowledge violation as defined in statute 382.107
A report that the driver successfully completed all follow-up tests as ordered by the substance abuse professional
Information Required for Violation Submission
Employer Info
Driver Info
Violation Info
Review & Submit
This blog is not all-inclusive. We cannot act as your attorney, so make sure you're consulting with a qualified employment attorney.
Still have questions? Contact Us