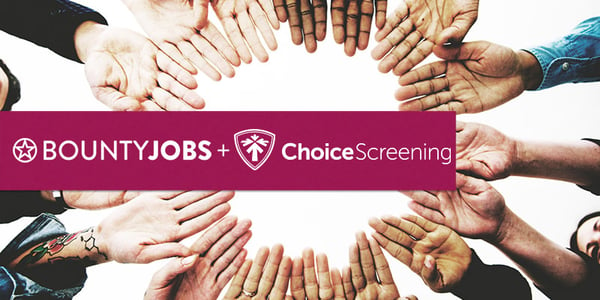 Leading Provider of Outsourced Talent Acquisition Solutions Partners with Leader in Background Screening Technology
Austin, TX February 26, 2019
BountyJobs, Inc., leading provider of third-party recruiting platform for collaboration between employers and search firms with over $1.6 billion in placement fees to recruiters and the world's largest recruiter marketplace, today announced a strategic partnership with Choice Screening, comprehensive background screening solution.
This strategic relationship with Choice Screening is the latest in the fast growing BountyJobs partner network, seeing 500% growth in 2018 and resulting in the largest partner network of any recruitment marketplace. This network connects innovative technology providers focused on improving the way companies recruit, attract and retain talent. This mix of partners has been hand-selected to help support the key constituents of the 2-sided BountyJobs Marketplace; employers and recruiting agencies. The BountyJobs solution can be integrated within any ATS and values the relationships and expertise that partner agencies bring to the table.
As an industry leading background screening provider, Choice Screening consistently delivers diverse background screening and hiring solutions. Their commitment to excellence exceeds industry standards with superior service, compliance, education, and accuracy. By partnering with BountyJobs, our shared clients can avoid the silos of the recruiting process and align with compatible vendors.
"The background screening technology that Choice Screening has brought to the table is an exciting approach to expand the capabilities of this critical step of the hiring process," said Stacey Steiger, Vice President of Product and Marketing at BountyJobs. "From standard background checks to compliance around credit reports and medical screening, their comprehensive platform serves an audience hungry for this solution in talent acquisition."
"The strategic collaboration with BountyJobs not only strengthens our core offerings, but fosters our endeavor to modernize hiring processes for all clients." Matthew Mitchell, CEO at Choice Screening.
The new relationship, which marries data-driven hiring solutions and traditional talent acquisition, creates an innovative approach for employers when making critical hires.
About Choice Screening
Choice Screening, Inc. is an industry leading provider of pre-employment background checks, Drug, Alcohol, and Medical Screening, Professional Verifications, Driving Records, Credit Reports, Rental History, as well as many post hire services such as Form I-9 Comply™, Workers Compensation, and Choice ReScreen. Choice Screening prides itself on client education and providing an accurate scope of this highly regulated industry. They are not only focused on remaining compliant, but provide the necessary hiring solutions to help their clients achieve their goals. https://www.choicescreening.com
About BountyJobs
Sometimes sourcing talent for business-critical positions requires a little help. Our web-based platform features a marketplace of over 10,000 highly-qualified agencies and a performance-based matching algorithm that helps hiring teams of all sizes find and engage the recruiters for each of their roles. All this inside our simple yet effective platform designed to keep you in control of the entire recruitment process. Help makes hiring happier. Learn more at http://www.bountyjobs.com.
Author: Erin Geiger, BountyJobs
Original Press Release can be viewed here.