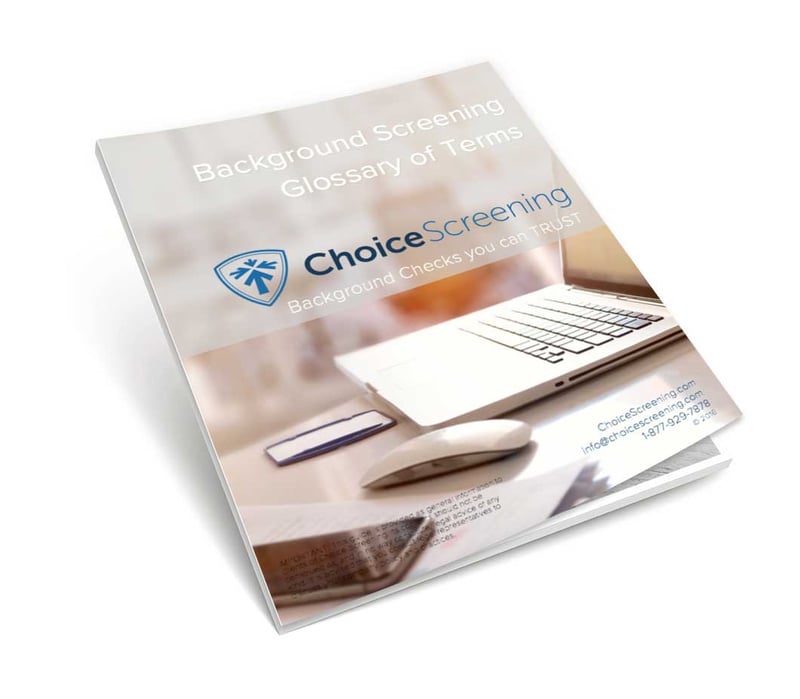 This is your all-in-one reference guide for everything background screening! From criminal records to verifications; from drug testing to Form I-9. The easier it is to understand your background report, the better your hiring decision will be!
The Background Screening Glossary of Terms will quickly become your go-to when requesting and using a background report - whether you're new to background checks or a seasoned veteran!
The Glossary includes:
Criminal Record Terminology
Drug and Alcohol Testing
General Background Screening
Form I-9, Audits and E-Verify
Agencies related to and governing background checks
Compliance Terms
From A…
Address History – A list of addresses associated with an individual used to drive a variety of
background screening services, such as selecting jurisdictions for a criminal record search.
Adjudication, Adjudicated – Occurs when a decision is made by the court in a criminal or civil case.
Adjudication Withheld – Court decision that does not result in formal conviction pending successful completion of probation.
Adulterated Specimen – A drug/alcohol screening specimen that has been deliberately tampered with.
Adulterant – A Substance ingested or added to urine in order to prevent detection of drugs/alcohol.
Adverse Action – A decision that adversely impacts the subject of a background report based all or in part on the results of the report.
Alias Name – Alternate name that an individual
…to Z (or actually W) this Glossary will ensure you are an expert at all things background screening!
Warrant – Order of a court or law enforcement issued when an individual failed to appear in court, is in contempt of court or has an outstanding balance of fines owed.
Wet Signature – Hand-written signature (pen and paper).
Workers Compensation History – Summary of worker compensation claims filed in a specified state.
Become an background screening expert! Download today!
As a consumer reporting agency, we cannot act as your attorney or give you advice. This blog is informative and not all-encompassing. It is not meant to provide legal advice. You must consult qualified legal counsel to ensure you are maintaining a compliant program.