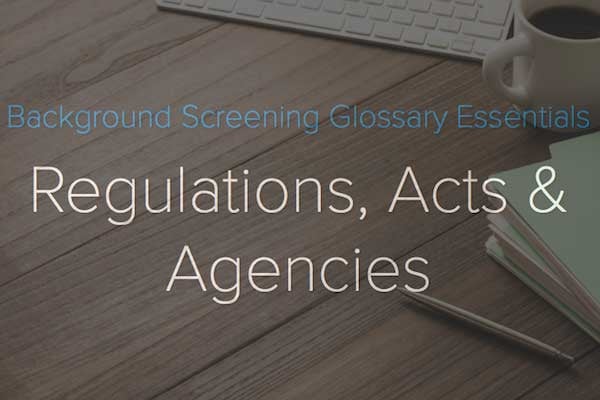 Looking for an essential list of background screening terminology that will help keep you compliant?
Look no further!
Employers who wish to mitigate the risk of a negligent hire and protect their company from unnecessary liability for non-compliance understand the importance of professional background screening with Choice Screening.
We want to make it easier for you to improve your background screening knowledge.
The below terms, focused on regulations, recent legislation and acts, and agencies associated with the background screening industry, are your jumping off point to compliant background screening.
Adverse Action – A decision that adversely impacts the subject of a background report based all or in part on the results of the report.
Background Report, Background Check, Background Screen – The collection of information about a consumer assembled by a CRA used to make an employment or tenancy decision.
Ban-The-Box (BTB) – Social movement focused on removing the "check box" from a job application that requests disclosure of criminal history.
Blanket Policy – A generalized policy used to make hiring decisions based on the results of a background report. Blanket policies are discouraged by several agencies as they may inadvertently place employers at risk for discriminatory practices/allegations.1
Compliance – In background screening, to act in accordance with all regulatory agencies and federal, state and local laws regarding the procurement and use of a background report.
Consent Form – A clear and conspicuous, stand alone document that must be provided to a consumer before a background report is initiated according to the FCRA and several state/local laws. The Consent Form discloses that a background report is being run and seeks authorization from the subject of the report (consumer, applicant, employee, tenant, etc.) in order to proceed.
Consumer – The subject of a background report, such as an employee, applicant or tenant.
Consumer Financial Protection Bureau (CFPB) – A government agency that enforces the FCRA and "protects consumers from unfair, deceptive, or abusive practices and takes action against companies that break the law."2
Consumer Report – As summarized per the FCRA: communication of information by a CRA to serve the purpose of establishing the consumer's eligibility for credit or insurance, employment or other authorized purposes. This can be a credit report as a stand alone document as well as a background report that does or does not include credit.
Consumer Reporting Agency (CRA) – A company that collects and/or assembles consumer information for the purpose of furnishing a consumer report.

Credit Bureau – An organization that collects and maintains credit records and credit scores on a consumer. The three main credit bureaus are: Experian, TransUnion and Equifax.
Department of Homeland Security (DHS) – A Federal agency that, along with Social Security Administration, returns E-Verify results for employment eligibility verifications.
Disparate Impact – Employment policy or practice that results in discrimination rather than a consequence of the intent behind it.
Dispute Process – The process by which incorrect information is identified on a background report and brought to the attention of the CRA for the purpose of correcting the report. A dispute does not always result in amending the original report.
Equal Employment Opportunity Commission (EEOC) – A Federal agency that is "responsible for enforcing federal laws that make it illegal to discriminate against a job applicant or an employee" based on protected class status.3
EU-US Privacy Shield – The framework for personal data transmission between EU Member States/Switzerland and the US. Formally adopted on July 12, 2016, as a replacement for Safe Harbor.
Fair Chance Act – Common name used for much of the legislation related to criminal record restrictions and credit reporting restrictions for employment and pre-employment background checks. Legislation varies by jurisdiction; refer to legal counsel for applicable legislation in your area.
Fair Credit Reporting Act (FCRA) – Federal law established by President Richard Nixon on October 26, 1970, that governs how consumer reporting agencies and end users request, obtain and use a consumer's information.4
FCRA Summary of Rights – A document summarizing the rights of the subject of a background report (the consumer) according to the FCRA.5
File – Per the FCRA, all the information on a consumer that is retained by the CRA regardless of how the information is stored.
Federal Trade Commission (FTC) – A government agency that enforces the FCRA and works "to prevent business practices that are anti-competitive, deceptive or unfair to consumers."6
Individualized Assessment – Taking into account additional information about the individual and criminal record before making an employment/hiring decision.7
NAPBS (National Association of Professional Background Screeners) – Non-profit trade association founded in 2003 to represent the interest of companies offering employment and tenant background screening services, and to establish and promote ethical and performance standards.8
Office of Inspector General (OIG) – A division of the Department of Health & Human Services (HHS) charged with protecting the integrity of the Department and the health and welfare of program beneficiaries.
Permissible Purpose – Reasons under which a background report may be lawfully requested, obtained and/or procured. Additional standards may apply for credit reports when used for employment or tenant purposes.
Safe Harbor – An agreement between EU Member States and the US to enable transfer of personal data for the purposes of background screening. Safe Harbor was eliminated by the EU effective immediately on October 6, 2015, after being active for 15 years.
Social Security Administration (SSA) – A Federal agency that, along with Department of Homeland Security (DHS), returns E-Verify results for employment eligibility verifications.
Summary of Rights – A summary of the consumer's rights as it applies to background screening. Consumers must receive a copy of the FCRA Summary of Rights. Additional state and local summaries may be required.
User Certification – Provision in the FCRA that states a CRA may only furnish a consumer report if the user has affirmed its compliance with the FCRA and applicable laws, including but not limited to only using the provided background report for a specified purpose.
At Choice, it's important that we show our client commitment by making the information you need readily available. With over 10 year's experience, we've learned a thing or two about background screening!
Your full Background Screening Glossary awaits! (and it's free so go ahead and download it!)
Reference Links:
[1]
EEOC Guidance
[2]
About the CFPB
[3]
About the EEOC
[4]
FCRA Full Text
[5]
FCRA Summary of Rights
[6]
About the FTC
[7]
SHRM Individualized Assessment Guidance
[8]
About NAPBS