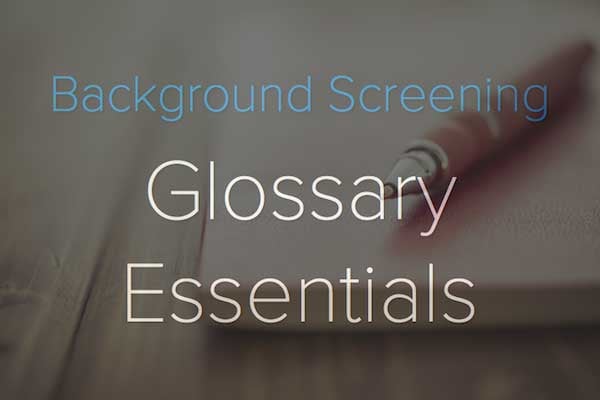 There is a trick to background screening: know the essentials!
With all the complex regulation that surrounds the background screening industry, employers need a solid foundation – an easy way to reference common terms used in background checks.
That's why we wrote the Background Screening Glossary Essentials Series.
In this series, we've categorized the terms in our full (and free) Glossary. Think of it like a study guide!
Every few weeks, we'll post another list of Essentials to so your team can hone in on what's most important to make informed hiring decisions, mitigate risk, and maintain compliance.
Let's kick it off with the most important terms you need to know for general background screening.
Address History – A list of addresses associated with an individual used to drive a variety of background screening services, such as selecting jurisdictions for a criminal record search.
Adverse Action – A decision that adversely impacts the subject of a background report based all or in part on the results of the report.
Background Report, Background Check, Background Screen – The collection of information about a consumer assembled by a CRA used to make an employment or tenancy decision.
Ban-The-Box (BTB) – Social movement focused on removing the "check box" from a job application that requests disclosure of criminal history.
Consent Form – A clear and conspicuous, stand alone document that must be provided to a consumer before a background report is initiated according to the FCRA and several state/local laws. The Consent Form discloses that a background report is being run and seeks authorization from the subject of the report (consumer, applicant, employee, tenant, etc.) in order to proceed.
Consumer – The subject of a background report, such as an employee, applicant or tenant.
Consumer Report – As summarized per the FCRA: communication of information by a CRA to serve the purpose of establishing the consumer's eligibility for credit or insurance, employment or other authorized purposes. This can be a credit report as a stand alone document as well as a background report that does or does not include credit.
Consumer Reporting Agency (CRA) – A company that collects and/or assembles consumer information for the purpose of furnishing a consumer report.
Credit Bureau – An organization that collects and maintains credit records and credit scores on a consumer. The three main credit bureaus are: Experian, TransUnion and Equifax.
Credit Report – Collection of a consumer's credit history, most often sourced from a major credit bureau. Only in specific scenarios may an employer use a credit report and/or credit score to make an employment decision.
Diploma Mill – An organization, institution or otherwise that provides individuals with a degree that may be entirely fake/fraudulent or provides a diploma/degree with little or no requirements, often by an unaccredited institution.1
Disparate Impact – Employment policy or practice that results in discrimination rather than a consequence of the intent behind it.
Dispute Process – The process by which incorrect information is identified on a background report and brought to the attention of the CRA for the purpose of correcting the report. A dispute does not always result in amending the original report.
DOB (Date of Birth) – Arguably, one of the most important pieces of information on a background report request next to full legal name. Most records (criminal, civil, employment, and education) are filed by name and DOB as opposed to other identifiers, such as SSN.
End User – The recipient of a background report procured by a CRA such as an employer or landlord.
Equal Employment Opportunity Commission (EEOC) – A Federal agency that is "responsible for enforcing federal laws that make it illegal to discriminate against a job applicant or an employee" based on protected class status.2
Estimate Time of Arrival (ETA) – The approximate date a service or report is expected to be completed assuming no unforeseen delay.
Fair Credit Reporting Act (FCRA) – Federal law established by President Richard Nixon on October 26, 1970, that governs how consumer reporting agencies and end users request, obtain and use a consumer's information.3
FCRA Summary of Rights – A document summarizing the rights of the subject of a background report (the consumer) according to the FCRA.4
Identifier – Personal information used to match a record (criminal, civil, medical registry, school transcript, etc.) to the subject of a background report, such as name, DOB, address, etc.
Individualized Assessment – Taking into account additional information about the individual and criminal record before making an employment/hiring decision.5
Investigative Consumer Report – A background report that acquires information on a consumer's character, general reputation, personal characteristics, or mode of living and is obtained through personal interviews with neighbors, friends, associates or acquaintances.
Permissible Purpose – Reasons under which a background report may be lawfully requested, obtained and/or procured. Additional standards may apply for credit reports when used for employment or tenant purposes.
Search Scope – Defines a background screening service in terms of time, location, source and/or information retrieved. For example: 7-year, County Criminal Search, Convictions Only, in Denver, Colorado.
Social Security Number (SSN) – 9-digit code assigned to a US Citizen, permanent resident or temporary resident.
SSN Randomization – A change implemented on June 25, 2011, affecting the way SSNs are issued in order to extend the longevity of the nine-digit SSN and protect the integrity of the numbers, including elimination of the geographical signification, or the area number.
Summary of Rights – A summary of the consumer's rights as it applies to background screening. Consumers must receive a copy of the FCRA Summary of Rights. Additional state and local summaries may be required.
Turnaround Time (TAT) – The duration between placing an order and receiving the final results of a background report.
User Certification – Provision in the FCRA that states a CRA may only furnish a consumer report if the user has affirmed its compliance with the FCRA and applicable laws, including but not limited to only using the provided background report for a specified purpose.
Wet Signature – Hand-written signature (pen and paper).
Know these definitions and you'll be well on your way to getting more out of every background report.
In the Background Screening Glossary Essentials Series, we'll hand-pick the most important terms covering:
Form I-9 & E-Verify
Criminal & Civil Records
Drug Screening
Regulations, Acts & Agencies
Subscribe to our blog and follow us on social media to receive this and other great articles right in your inbox. Just CLICK HERE to get connected!
Reference Links:
[1]
US DOE Diploma Mills and Accreditation
[2]
About the EEOC
[3]
FCRA Full Text
[4]
FCRA Summary of Rights
[5]
SHRM Individualized Assessment Guidance